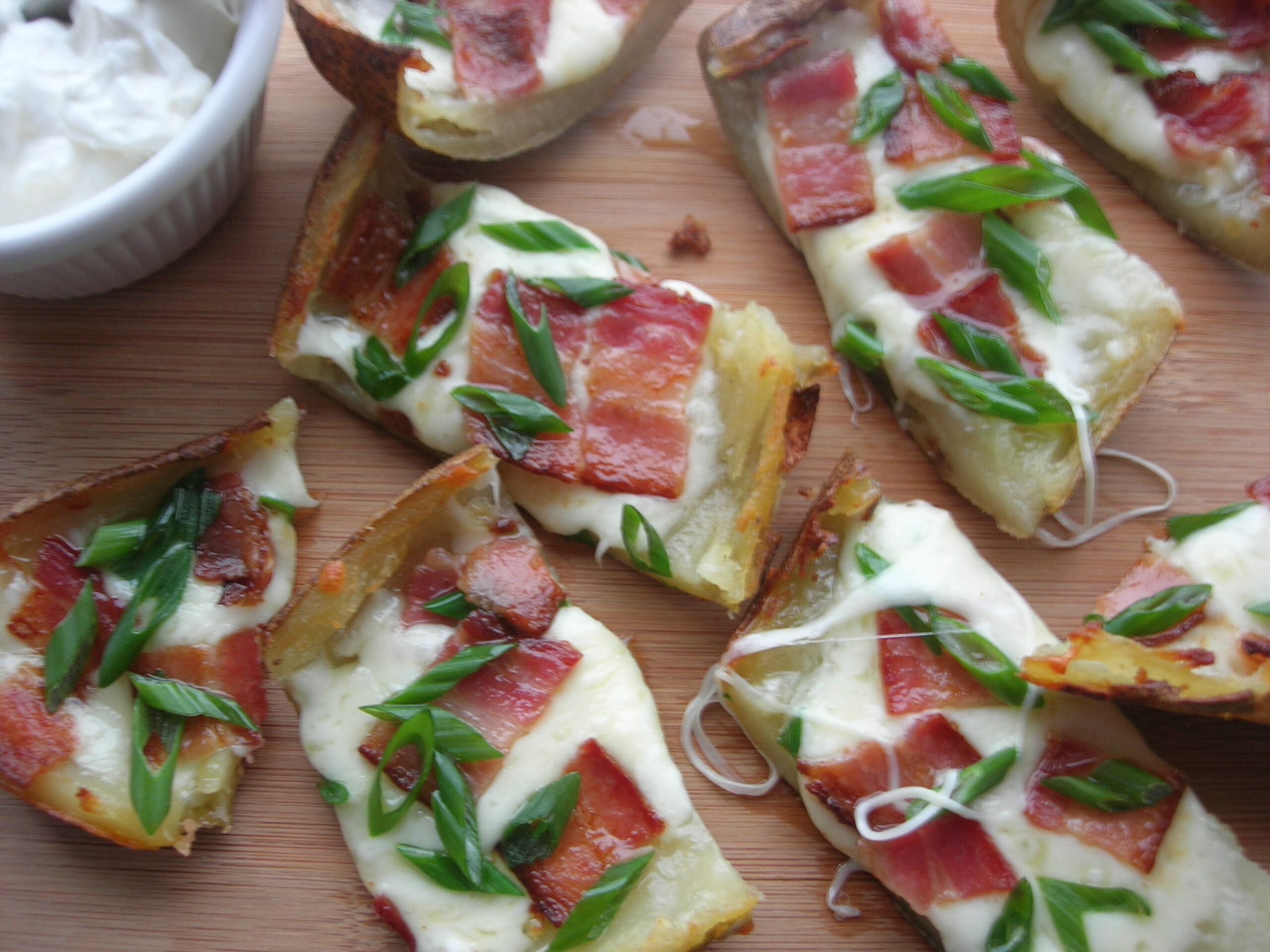 Blue Cheese-Chive Potato Skins
Ingredients:
* 2 large baking potatoes
* 6 tablespoons Lindsay's Gourmet Compound Butter – Blue Cheese-Chive
* 4 strips of bacon
* 1 cup provolone cheese – shredded (any 'melting' cheese works well)
* 2 tablespoons butter
* kosher salt
* 2 green onions (sliced for garnish)
Optional: 
* 1/3 cup Blue Cheese crumbles for garnish
* Serve with sour cream
You will need aluminum foil, a baking sheet and a baking dish.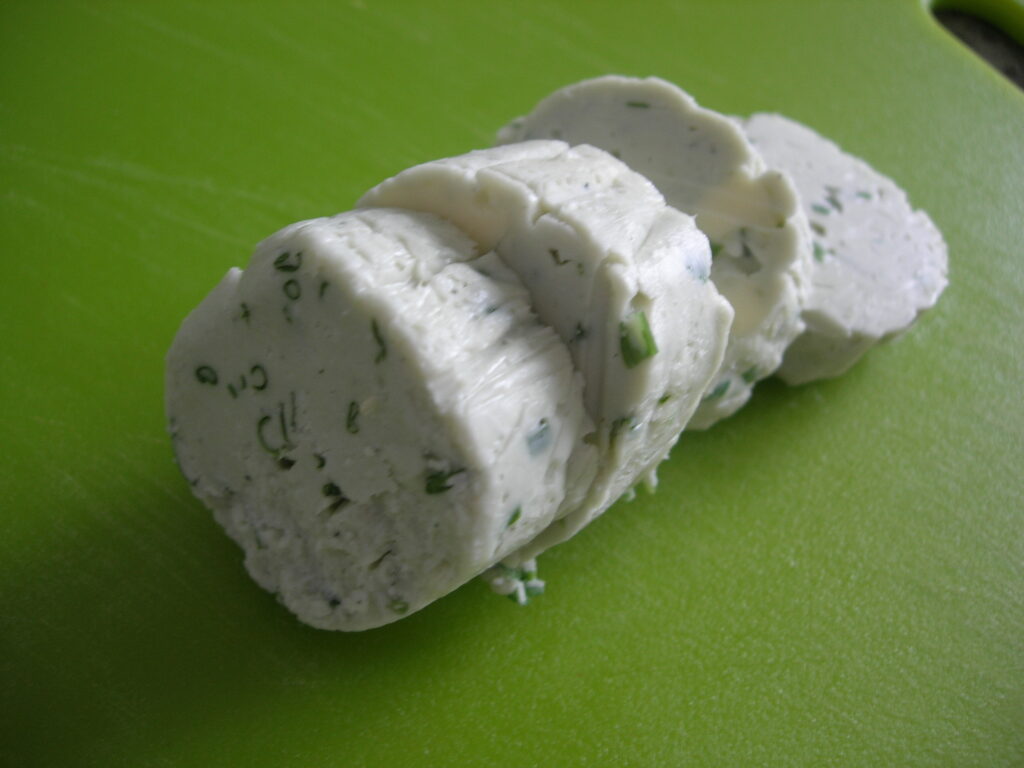 Instructions:
* Preheat oven to 400 degrees
* Rub unflavoured butter all over clean potatoes and sprinkle generously with kosher salt
* Wrap potatoes in aluminum foil – tightly so the butter doesn't seep out (I double wrap!)
* Place on oven rack and bake 45 – 60 minutes (depending on size) until done
* While the potatoes bake; cook the bacon (In a frying pan or in the oven like I've done here – place bacon on foil or parchment on a baking sheet; place on bottom oven rack and bake for 15 – 25 minutes depending on desired crispiness.)
* Unwrap potatoes and let cool slightly
* Drain bacon on paper towels and chop into bite size pieces
* Melt the Blue Cheese-Chive buttery goodness in a small saucepan
* Cut potatoes lengthwise and scoop out the potato, careful not to break the skin (reserve scooped potato for another use)
* Increase oven temperature to 450 degrees
* Place skins, hallowed out side down, in a baking dish and bake for 10 minutes – flip the skins – bake for an additional 10 minutes until crispy (a baking dish is best here, as a baking sheet might warp at this temperature)
* Spread the Blue Cheese-Chive generously in the hallowed out potato skins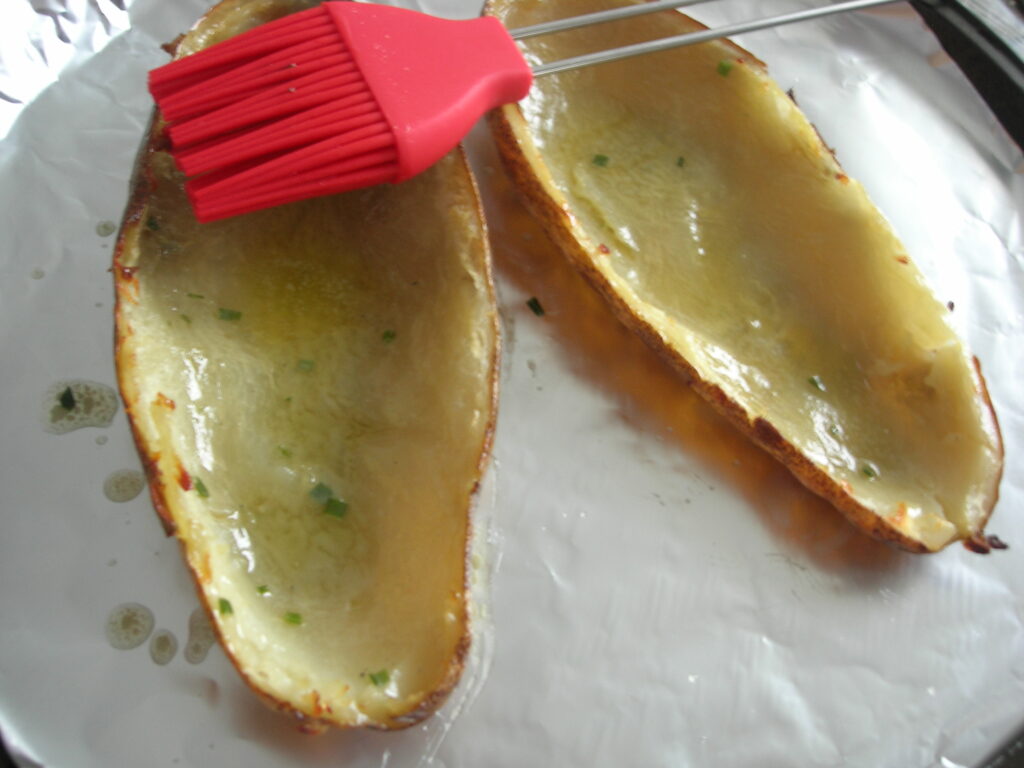 * Add shredded cheese and chopped bacon to each
* Place skins back in the oven and bake for  5 –  10 minutes, until cheese is melted and bubbly
* Slice skins into easy to hold pieces and top with chopped green onions
* Optional: garnish with blue cheese crumbles and/or serve with a side of sour cream
Enjoy!